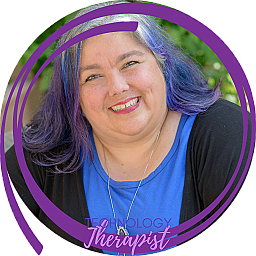 Bio
My name is Stacy Braiuca, affectionately known as The Technology Therapist™ & Squirrel Wrangler.
One thing I know after 25 years as a therapist, is humans want to change, but don't know how or don't want to do the work to change. Change is a "constant", yet vital to life.
I have spent my career guiding others through the change process & I am on a mission to spread tenacity and life balance in this world.

Now, entrepreneurs and thought leaders hire me to develop sustained passion and purpose, because most are not fully using the tools, resources, and systems they already have, they can't keep up with everything, and they are not investing enough in themselves.
So I join with them to co-create new paradigms, plans, and processes, to be more efficient, healthy, and reap the rewards of their lives. Bottom line... without the right formula, you can't sustain all of the things you love, (and you've gotta #automate2liberate with a Technology Therapist™).
Let's find your formula at https://www.findyourformulacoaching.com
What is a "the" Formula?
"The" ___________ (you fill in YOUR blank) Formula is a set of skills, resources, and actions to set entrepreneurs up for sustained passion and purpose because many are not fully using the tools, resources, and systems they already have, they can't keep up the pace of their obligations, and they are feeling drained, depleted, and frustrated.
Why create your Formula?
If the last several years have taught us anything, it is we must have a plan of action to care for ourselves and our families that is flexible, life-affirming, and fits for us.
Connect with me and get weekly updates on the Technology Therapist™ App at https://www.stacybraiuca.com/app
Come join my free weekly coffee social chat on Wednesday mornings at https://www.stacybraiuca.com/coffee
Presentations
This is an example talk for Stacy Braiuca
Summit Talk: What is your Formula?
1. Why have a formula?
2. What are the main parts of the formula?
3. Why is it important to each have our own formula?

Summit Overview

Are you both productive and passionate? Do you have both structure and flow in your life? Can you be creative but also predictable?
Our lives are filled with many different aspects: physical, mental, emotional, spiritual, professional, personal, local, and global, just to name a few.
If we aren't balanced in all of those aspects, it can intimately impact our overall wellness. But how do we balance all of the things while also living a meaningful and fulfilling life?
There are four major wellness thieves we must mitigate against for our overall wellness. With the right formula, you can be more productive, enjoy your business, balance work and home, and enhance your overall wellness.
In this holistic session Stacy Braiuca, Technology Therapist™ & Squirrel Wrangler, and Founder of Find Your Formula™ Coaching will discuss how you can balance your formula to live a more productive, peaceful, and personally driven life.
Events
Stacy Braiuca has participated in these events