A lot of updates...
Version: 1.29
A number of small improvements have been implemented for this release. Some of these were released over the last several weeks, so we'll mention them here to make you aware:
Much improved messaging within the system, showing you what is missing to be able to publish an event, or what you need to complete to make it show in the main EventRaptor events directory, for instance.
The app events directory now shows only "Open for Applications" summits by default; you can uncheck a box to see all current and future summits. But this will save you a bit of manual filtering when you are looking for speaking opportunities.
Don't show an empty registration graph - seems a bit silly to show you a graph of how registrations have grown over time before you have a single registration…
Enabled "Tracks" for power users - yes, you can now easily add your own tracks to your virtual summit.
Major one: you can now edit your registrants to fix name issues, change email address, and subscribe or unsubcribe them. And a major one: you can edit the promoter ID so you can fix incorrect IDs, or add an ID if someone did not use the correct link, for instance.
You can also at a glance see whether your registrants are still subscribed or have unsubscribed to the emails for your event.
We used to have an issue with the menu bar dropping off on mobile phones - that should be a thing of the past.
Published At: 2.45 PM on Tuesday, August 1st, 2023 (UTC)
Internal development release
Version: 1.28
Helping make our life easier in fixing a couple of bugs.
One feature that we'll release at some stage is two way sync of registrations between CRMRaptor and your event - just in case you connected your integration late. August, probably, for this feature.
Published At: 1.10 PM on Thursday, July 13th, 2023 (UTC)
Usability and back-end improvements
Version: 1.27
In this release, most changes are invisible to users, but some improvements had significant impact.
Offloading image loading to an exernal service (faster loading times)
Better integration with CRMRaptor (for transfer of contacts)
Improved user notifications when there is data missing for a speaker session (e.g. if no session time and no recording - now that will be easier to see).
Improved email testing ability and formatting.
Display leaderboard in browser (download only was available before).
Published At: 9.00 PM on Monday, July 3rd, 2023 (UTC)
A ton of improvements behind the scenes...
Version: 1.26
… and some "great quality of life" improvements for our customers too!
You can now easily display all your speakers on any page on the Internet. On your Event Dashboard, simply copy and paste the short code snippet we give you to display the speakers!

For the registration page setup, we're now hiding a lot of the fields you don't need when you use your own landing page.
We're also giving you instructions for how to transfer registrant information from other systems into EventRaptor. Use this if you are setting up CRMRaptor or any other landing page system that can send information by webhooks or an HTTP POST.
For instance, you can now easily send registration information from a landing page on Keap into EventRaptor.
We can now display leaderboard information directly for your speakers! For now, contact us to make it live on your account. You will soon be able to enable it by yourself for your event.
You can embed your own HTML and video on the EventRaptor registration page!
Event Admins can download the speakers and applications from the "Speaker" section - the download now includes VIP gift information.
Published At: 7.36 PM on Tuesday, April 11th, 2023 (UTC)
Allow "doors open" before event starts
Version: 1.25.20
We added a 'doors open X minutes before the event starts' setting.
In real life, if you have an event starting at 9 AM, then you would normally want people to arrive a few minutes early, get seated, and make themselves comfortable.
So the doors to the room would open a few minutes before the event starts.
By default, we'll show the event as LIVE 5 minutes before the event starts. Change this to a value that suits your event.
You'll find it on the Setup / Event Details page.
Published At: 2.48 PM on Tuesday, March 21st, 2023 (UTC)
Giveaways - you can now easily enable emails
Version: 1.25.19
In your dashboard you now have a button to enable emails easily.
Published At: 1.24 AM on Tuesday, March 14th, 2023 (UTC)
Giveaway Dashboard shows links to relevant pages
Version: 1.25.18
The Giveaway dashboard page now shows the links you'd like to see for the relevant pages - registration, thank you, and gift access page
Published At: 1.02 AM on Tuesday, March 14th, 2023 (UTC)
You can now send test emails to yourself for your event
Version: 1.25.17
When you set up EventRaptor emails for your event, you can test them by sending one to yourself.
Note: that's only applicable to emails with a fixed time. You cannot yet send a "welcome" email as a test. Opt in to your own event to see the welcome email.
Published At: 3.16 AM on Monday, March 13th, 2023 (UTC)
Team functionality improvement
Version: 1.25.11
Allow team members to see and edit emails for your event.
Published At: 11.01 PM on Thursday, February 23rd, 2023 (UTC)
Embed speakers on external page
Version: 1.25.7
Published At: 11.46 PM on Thursday, January 26th, 2023 (UTC)
Social Media Links for Speakers Now Available
Version: 1.25.6
You can now set up applications to ask for social media links from the speakers. You can choose any or or all of the following:
LinkedIn
Facebook
Instagram
YouTube
Twitter
TikTok
Telegram
Published At: 7.22 PM on Sunday, January 22nd, 2023 (UTC)
Integrations are coming ALIVE!
Version: 1.25
We're starting to release integrations with other systems. The first two out of the box is Keap/Infusionsoft and CRMRaptor, our new CRM system that will work hand-in-glove with EventRaptor.
At the moment it's released on a "per-request" basis - if you want it, send us an email to support@eventraptor.com to request it.
Published At: 12.17 AM on Wednesday, December 28th, 2022 (UTC)
Ability to remove registrants
Version: 1.24.24
You can now delete registrants from your event. This will remove them from the email list as well. They can still sign up again. This is very useful for testing, or someone asks to be removed.
Published At: 1.51 AM on Wednesday, November 23rd, 2022 (UTC)
Allow meetings to be unlisted
Version: 1.24.20
You can now create private meetings; they will not appear in the listings on the main site.
Published At: 9.56 PM on Friday, November 18th, 2022 (UTC)
Calendar view for LIVE sessions
Version: 1.24.18
As a summit host, you can now see a calendar view with all the sessions. Only live sessions with a time will show up in the list. If you are missing a session, make sure it has a time and duration!
Published At: 11.28 PM on Tuesday, November 8th, 2022 (UTC)
Events Directory has been launched!
Version: 1.24.14
We have an events directory!
We're going to expand on the functionality of the directory over time, allowing searching by topic and category.
In the meantime you can simply go from page to page to look at events. We're listing summits and meetings, and will also be listing giveaways.
It's linked from our home page, and you can go to it directly, here:
Published At: 12.26 AM on Monday, October 17th, 2022 (UTC)
Improvements for hosts and speakers/interviewees
Version: 1.24.12
For Power customers, Program At A Glance and Run of Show will now display the whole list before, during and after the show.
Hosts can now copy the time of any of the speakers by clicking on the icon before the entry.
When speaking LIVE, presenters can now see their own time displayed in their entry.
When changing a session, the change is now immediately reflected on the Attendee Dashboard. You no longer need to click "Update Dashboard".
Published At: 8.41 AM on Sunday, October 9th, 2022 (UTC)
Drastic speed improvement for Email Delivery
Version: 1.24.11
When sending thousands of emails, it could take a few minutes for all the emails to be sent from the system. We have drastically improved the speed of sending emails so your registrants will receive them sooner. This is especially important if you send emails like "starting in 5 minutes".
Published At: 4.45 PM on Wednesday, October 5th, 2022 (UTC)
A nice graph!
Version: 1.24.10
We're getting adventurous and have added a GRAPH for meetings and summits, showing how your opt-ins for your event is growing 🙂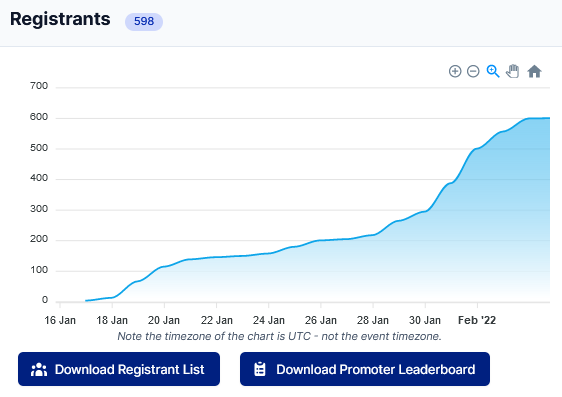 Published At: 2.40 AM on Tuesday, October 4th, 2022 (UTC)
Indicate when the organizer added a session or gift
Version: 1.24.9
Sometimes, the organizers enters the speaker information themselves. Now it will show the organizer the name of the person they added it for rather than the organizer name/email.
Also, now the promoter link is hidden and a reminder shown instead if promoter tracking has not been enabled.
Published At: 9.14 PM on Sunday, October 2nd, 2022 (UTC)
Prevent Promoter tracking being enabled too early
Version: 1.24.8
We've hidden the "Enable Promoter Tracking" button when the event is not published - as we need some information from the publishing process to effectively track promoters.
Now you can't click it and get an error; instead, publish your event and click away!
Published At: 1.33 AM on Tuesday, September 27th, 2022 (UTC)
Fixed social media link issue
Version: 1.24.7
Before, when adding a social media link, we didn't clean it up if you put in the whole link, including https and facebook.com, etc. Now we do, which means it's much more likely your social media links will work on the first try. Don't worry - we check them anyway and will fix it if we can.
Published At: 11.31 PM on Saturday, September 24th, 2022 (UTC)
Keyboard shortcut to save the page - CTRL-S
Version: 1.24.3
On many of the pages where you're setting up your event, you can use CTRL-S to save the information on the page. The page will reload afterwards. This means you can more easily save your work when you are writing long descriptions, for instance.
Published At: 10.04 PM on Wednesday, September 21st, 2022 (UTC)
Many small improvements
Version: 1.24
It's been a while since we added to the changelog. There have been a number of improvements internally in the system: removing inconsistencies for users, improving speaker profiles by allowing publishing website and social media, improved promoter reporting when you are looking at promotion performance of your event, fixed issues we had with topics attached to speaker profiles and events, and much more.
We also had to do some significant rework internally in the system to prepare for handling tickets. We will allow you to create private and public events, with or without tickets, free tickets, and more, and we need to ensure it's rock solid when we release it.
We are testing internally custom questions during registration for meetings, and will add that to application forms as well.
Published At: 3.00 PM on Tuesday, September 20th, 2022 (UTC)
Preparing for recurring events & Signup Emails
Version: 1.22
We have started introducing WordPress style short codes into the event description, registration page, and emails, which will make it much easier to insert dates and links for attendees. At the moment we're giving access to this on a per request basis, and when the documentation is ready we'll roll it out to everyone.
In the past, if someone registered for an event they only received an email the very first time they opted in. If they missed it (or the host had not set it up), it meant they would never receive the welcome email again.
So now when they register a second (or third or fourth) time, they'll get the signup email again. This is especially important for recurring events such as regular networking meetings, as many attendees do not realize they stay on the list and will receive future emails automatically.
Published At: 5.49 PM on Thursday, June 9th, 2022 (UTC)
Internal maintenance releases
Version: 1.20 and 1.21
These two releases contain a ton of internal changes and improvements, with a few very minor enhancements for customers
Published At: 5.57 PM on Saturday, May 14th, 2022 (UTC)
New structure for handling Registrants and Sessions/Applications + Images
Version: 1.19
In this update, we have significantly improved application and speaker management, including searching and sorting for speakers which is incredibly useful for larger events.
You can now also search Registrants so you can quickly search for specific people. We also renamed it "Registrants" as it more accurately reflects what is is - it is NOT an attendee list; it's a list of those who have registered for your event.
We've made a significant upgrade on our image handling. You can now include images in your speaker profile and in emails.
Published At: 10.35 PM on Thursday, April 21st, 2022 (UTC)
New system for updating your profile
Version: 1.18
Updating your profile just became a whole lot easier. Select "Start Here", then Create or Edit your profile, and our wizard will take you through the process.
You can now also include images inside your profile.
We also ask you for social medial handles and will shortly display these on your profile page as well.
Published At: 2.52 AM on Monday, April 11th, 2022 (UTC)
Overview of System Changes!
Version: 1.17.7
We have a changelog for the system! Now we can better show you what updates we have implemented, so you can discover the new features and fixes as we update the system.
We won't list absolutely everything - but new features and significant enhancements will definitely be listed.
Also - some updates are internal. For instance if we make updates so something works better but doesn't change any functionality then we'll skip adding an entry here.
Published At: 12.29 AM on Sunday, April 3rd, 2022 (UTC)
Run of Show / Program At a Glance
Version: 1.17.6
For our Lifetime and Power plan users, we have added our first (beta) Run of Show and Program At A Glance.
We'll be enhancing these features significantly in the future.
However, already these two pages gives you a quick overview of what's going on in your event. The Run of Show includes the bio, talk descriptions, gift links and more.
The Program At A Glance is a quick overview of your speakers, with the timing of their talks.
Published At: 7.02 PM on Saturday, April 2nd, 2022 (UTC)
Event Diagnostics
Version: 1.17.5
Ok, sometimes we just overlook things, especially when information is spread over many different speakers. And can be a hectic time when you create a virtual event.
So we created a Diagnostic page.
If you're running a summit, you'll find this in the menu on the left. The diagnostics will show you if we can detect anything wrong. Why a speaker is not showing up, whether the times you have entered overlaps another speaker, or indeed is outside the event dates.
We implemented the manual checks we do ourselves when we run a summit, so hopefully you'll find it useful for your event.
Remember, when you make changes to your speaker information you must manually refresh the Attendee Dashboard - there's a blue button on the diagnostic page that will push your changes live on the attendee site.
Published At: 4.55 PM on Saturday, April 2nd, 2022 (UTC)
Fix error message
Version: 1.17.4
If something happened behind the scenes, you might get a "500 Server Error". Well, before this update it wasn't a very effecitve error message - just saying "500 Server Error", and leaving you wondering "what happened? what do I do now?"
Now, we have a nice page with some helpful guidance. We'll also let you know that we have system alerts that lets me know immediately when there's a problem - so you'll know I will be on the case asap.
Published At: 3.14 AM on Saturday, April 2nd, 2022 (UTC)
Archive and Duplicate Functionality
Version: 1.17.1
You can now archive an event you no longer want to be visible. If you need to recover it, contact support@eventraptor.com.
Published At: 12.39 AM on Tuesday, March 22nd, 2022 (UTC)