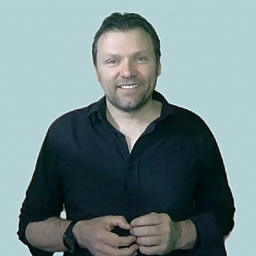 Bio
Presenter, Disruptor, & Entertaining Visionary at Smart Inspiration Virtual Events
As the child of a British ex-serviceman & an exiled Eastern European from Prague in the midst of the Cold War, Richard had the right foundation to become an international spy. However, always keen to share any secrets he learns, that career was never a viable option.
Instead, Richard spent nearly 30 years being 'parachuted in' to countless well known international companies to rescue them from disaster, or to guarantee success of complex missions. Tasked with delivering business, technology, & process overhaul assignments, & given budgets ranging from just a few thousand, up to hundreds of millions, he had to prove his skills time & time again of becoming an 'on-demand expert', able to rapidly absorb knowledge like a sponge, & then distil down to scope, plan & execute, while training others at any level.
Turning this seemingly complex sounding process into a repeatable formula, his career was spent to rapidly get on the ground running, averting many international incidents, unafraid to get stuck in.
Perpetually learning, through extensive research, interviewing experts, & even watching thousands (no exaggeration) of TED talks, Richard believes anyone can do what he did, & is keen to share this skill with others.
Through a keen interest in Time Management, Effectiveness & Work-Life Balance, he is determined to get as much out of his personal & professional life as possible, seeing simplification as a route to scalability, & creating opportunities where others see objections.
Want to know more?
As a former national athlete, an author, speaker, entrepreneur, inventor, & disruptor, he has put his skills to the test, & is always looking for new & exciting challenges to take on.
"If we've only got 1 life, why not try to live 3", he has said, backed up by even writing a book on time management and effectiveness.
His broad reaching accomplishments to date are only limited by his available time, & so he now focused on building great highly effective capable teams.
Not content to stop there in his pursuit of happy effective teams, he even worked alongside a number of large corporates like HSBC, KPMG, PWC & Accenture which allowed him to create & publish a universal formula for effective Work Life Balance, on which he frequently presents.
In Richard's own words, "It's not just about cramming more in, but about freeing up time for what truly matters".

Still want to know more?
As a trainer & speaker, Richard combines his academic knowledge of how the brain works for effective productivity, education & entertainment, with his extensive commercial board level experience, his unusual personal & academic history, his experience as a sportsman representing his country, and his keen interest in both standup comedy as well as watching thousands of TED talks, into his work as a regular presenter on Smart Inspiration 1-Day workshops that Take-on, Tackle & Tick-off those Tricky To-dos.
Richard is passionate about delivering results, leveraging experts with their hands-on skills in all the right places, helping other to learn just what they need, using carefully crafted entertainment to help make 1-Day Workshops & talks into events to remember.
See more about him, as he features in some of the videos on Aurora's social enterprise Youtube channel, as well as a wide range of talks, including some designed purely for amusement!
Really? Are you sure you want to know more?
From an intense life of Adrenaline sports, Academic learning, & Animal welfare, some of his credentials, skills & achievements, include:
Academic - Neuroscience (psychology & neurology) + Marine, molecular & microbiology University graduate
Author - Range of books including "I Don't Have Time - 222 1/2 Tips in Time Management & Effectiveness for Busy People"
IBPDA/ANLP certified NLP Trainer
Best practice trainer of Prince2, Agile, Six Sigma, Lean, MSP & ITIL.
Experienced business owner - 30 year track record of businesses from training, consultancy, home automation & smart technology
Inventor & product designer - of a number of products over the last 20+ years
Experienced Business coach - always helping businesses & charities to become better
Former director of governing body "International Business & Personal Development Association" (IBPDA)
Pilot, scuba diver, sailor, water-sports enthusiast, & Former National Athlete (Highboard & Springboard diving)
Certified animal micro-chipper & KC (Kennel Club) approved dog show judge
Keen charitable organisations supporter & contributor - Passionate to make a difference, he spends time helping the charitable cause RespectFor.Me supporting survivors of narcissistic abuse, inequality, & injustice, as well as the charity Pet Blood Bank, helping dogs & cats receive life saving transfusions, in addition to helping run Virtual Mondays networking, consisting of 4 networking groups, including B2B2C, Care Connector, NetworkingforGood.org.uk, & even most recently assisting a Neurodiversity networking group, helping support businesses who see the advantages Neuro-diverse mindsets can bring, from rich talents to potential prospects.
He also enjoys presenting (mainly personal development, or comedy) & writing (in 3 diverse genres - personal development, fiction, & comedy!), & somehow always find time to assist others.
You can book time with Richard to discuss potential opportunities via https://Calendly.com/SmartInspiration
Author, speaker, inventor, product designer, entrepreneur, business owner, & self-proclaimed comedian. Keen pilot, scuba diver, sailor, water-sports enthusiast, writer & perpetual learner.

#Presenter #Disruptor #OnDemandExpert #AlwaysAStory #Equalist #UrbanAdventurer #Passionate #Enthusiastic