Name

Ultimate Template Library for Entrepreneurs Giveaway

Created

3 weeks 3 days ago

Organizer Kat Halushka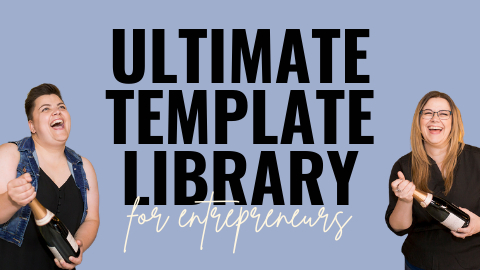 Timezone

Timezone: Mountain Time (US and Canada)
Registration ends: Tue, Jul 19, 2022 12:00 AM (1 month 3 weeks from now)
Open: Accepting Contribution Applications Until Friday, 1 July, 12:00 PM
Description
Hey, we're Kim & Kat, and we'll be your hosts for this giveaway.
Why should you choose to participate in the Ultimate Template Library for Entrepreneurs Giveaway?
It's simple! There is a shift happening in the world and marketing efforts that were working in 2020 and even the beginning of 2021 are falling flat. One of the pivots that innovative entrepreneurs are making is tapping into the power of collective marketing. Instead of fighting to be seen and heard, you can be part of a large group of entrepreneurs directing their collective energy into promoting together while tapping into already built audiences. You get to bring high-value content to grow your email list without the hustle of doing a full launch!
This giveaway is open to all list sizes, as long as you have a gift in the form of a downloadable template that will bring true value and results for those who leverage it.
Because to truly help online entrepreneurs, being able to motivate them and teach them successful strategies to grow their business is mission-critical in 2022. Having previously hosted hundreds of virtual summits & events where we worked with those with a 60K+ list and those with a small list, we can safely say list size doesn't matter. It is about how engaged your list and community really is and how committed you are to fulfilling the promotion requirements.
What makes this giveaway different from others is that we are asking you to contribute a high-value template that visitors to can opt-in to download. It should be a tool that will save them time or money while helping them run their business and can fall under the categories of Personal Development, Marketing or Business.
Please read all the details of participation below as your payment and/or participation indicates acceptance of these requirements.
While we can't guarantee results, our intention is for the majority of contributors to walk away with several hundred new leads at least. How many opt-ins you get will depend on a number of factors including (a) your own promotional efforts (b) the quality and value of your free gift and (c) the contributor package(s) you purchase.
We will do our very best to ensure everyone promotes the event as agreed. Majority of our past participants walked away with 300-1,500+ new leads.
Please don't wait to select your package and take care of your contributor fee as we expect a full sell-out. If you haven't done so already you can find the package selection page here: https://pia.thrivecart.com/giveaway-participation/
Don't forget to Submit your contribution information! As soon as you make your payment and complete your intake form here we will approve your spot in the Giveaway.
If you have any questions, please email our team at admin@profitableimpactacademy.com.
Cheering you on,
Kim & Kat
GIVEAWAY DETAILS
NOTE: Please feel free to contact our team for any questions about the details, requirements and responsibilities listed below.
Promo Window
The giveaway promo window starts on July 5, 2022 and runs until July 19, 2022.
Your emails promoting the event must go out during this time frame.
Giveaway Window
The giveaway officially opens on July 5, 2022 and closes July 19. We will be doing a two special email promotions for all those that have opted in, with special contributor features and emails for those contributors who qualify (see https://pia.thrivecart.com/giveaway-participation/ for package details).
How It Works
Visitors opt-in for the giveaway and they are taken to a page with all contributor giveaway offers. There, they click the access button for any offers they're interested in (including yours!). That takes them to an opt-in page on YOUR site, where they will complete the opt-in process. You are responsible for your own opt-in process, tracking, and technology from the moment they click the access button from our gifts page to your opt-in page.
NO Immediate Upsells
During the period the event is live, no upsells to paid programs are allowed on either your opt-in page or via email. We encourage you to nurture your new list and then, at the right time sometime after the giveaway has ended, make a paid offer.
PARTICIPATION REQUIREMENTS
Expert Contributor Feature Options
EXPERT CONTRIBUTOR
Participate as an expert contributor to feature a free gift to an audience of over 200K.

Receive all base promotional materials to make it easy to share with your audience.
$97
EXPERT CONTRIBUTOR TOP OF PAGE SPOT
Everything (above) PLUS the following:

Highlight spot in a special "Premium" section at the top of the page above all gifts. (based on the order of registration)

Potential for more than double the average optin rate of all contributors.

5 total spots
$297
Your spot is not secure until your application has been submitted and you have paid the contributor fee. We reserve the right to reject your application if it doesn't meet our desired goals. If this happens (it's not anticipated), we will contact you and work with you to choose a different offer so that you can participate.
Solo Emails
You must agree to send 3 solo promotional emails at a minimum for the giveaway between July 5 and 19th. Basic details will be provided for you to add your own voice and customize for your email list copy & social media. (In a few rare exceptions, we can accept emailing only two times. Please contact us if you need to discuss exceptions.)
It's suggested that you email when the giveaway first opens, mid-way through, and towards the last day or two. Our team will be monitoring promotions to ensure a successful event for everyone.
Opt-ins
Each contributor is responsible for bringing in at least 30 Opt-ins to create maximum success. The gifts on the page will be listed in the order of most optins with an exception of these with Featured Expert Upgrade.
Please note that if you do not fulfill the promotional and opt-in commitments you made on the application form, we reserve the right to remove you from the giveaway without notice or refund.
Social Media Promotion
You must agree to post for the giveaway 6 times at minimum between July 5-19 on your most popular, highly-engaged social media channel(s). It's suggested that you post when the giveaway first opens, mid-way through, and towards the last few days. Our team will be monitoring promotions to ensure a successful event for everyone. Please note that if you do not fulfill the promotional commitments you made on your application form, we reserve the right to remove you from the giveaway without notice or refund.
YOUR RESPONSIBILITIES
Put Together an Enticing, High-Quality, and Valuable Template GIFT
The more exciting the templates we all give away collectively, the bigger the buzz and the greater the crowd this giveaway attracts. And, of course, the more ideal leads you to attract to your list, too!
And remember, for THIS giveaway, your template gift must in some way help entrepreneurs improve their personal development, business, or marketing skills with the new edge you've provided them.
You may want to consider giving away something you would ordinarily charge for, or something that really surprises and "wows" people with its unique value to inspire them to opt-in.
Templates are HOT right now with many entrepreneurs looking for resources that don't require a lot of input of time so this is a great opportunity to wow them with your high-value template.
We insist that your gift look professional and deliver real value to your new subscribers. If your proposed gift does not meet these criteria, we reserve the right to request that you select a more appropriate template for this giveaway. This is to ensure that your reputation as well the reputation of your fellow contributors and the event as a whole is protected and enhanced.
Fill Out Your Application ASAP and Provide All Materials Requested
Submit your contributor fee, and fill out all of the required fields on this application form. Your application must be submitted no later than July 1st, 2022, or you run the risk of not having your gift up on the site on opening day.
Create an Opt-In + Thank-You Page on Your Site
Create an opt-in page on your site that describes the benefits of the template you're offering and provides a way to sign up to receive it. You'll also need to create a thank you page with either a download link or instructions for the next steps. These must be complete, uploaded, and ready for us to review no later than July 1st, 2022. We strongly recommend you add a banner to your opt-in to maintain the look and feel consistency. We will provide you with a banner to include on your page.
You are responsible for testing and ensuring your pages function properly during the duration of the giveaway.
Email Your List + Post on Social Media
As discussed in the requirements section, you must send a solo email about the giveaway to your list a minimum of 3 times during the promotional period, as well as post on your social media channels 6 or more times. This is what makes a collaborative effort like this create success for everyone. We will provide basic promotional copy for you to customize for email and social media posts along with images. We ask that you forward to our team the emails you send, as we track all promotions for the event.
REFUND POLICY
All sales are final.
We reserve the right to reject your offer if it doesn't meet our desired goals. If this happens (it's not anticipated), we will contact you and work with you to choose or craft a different offer so that you can participate. If we determine that your offer is not suitable for the giveaway, we'll refund your contributor fee.
Please note that if you do silly things like not fulfill the promotional & opt-in commitments you made, not abide by the terms on this page, or treat our team members or your fellow contributors disrespectfully, we reserve the right to remove you from the giveaway, at our sole discretion, without notice or refund.
About Your Hosts, Kim & Kat
Together Kim Carson-Richards & Kat Halushka co-founded Profitable Impact Academy Inc back in 2018 and turned it into a multi-six figure organization while becoming go-to experts in Collaborative Marketing Strategies teaching their clients how to use multi-speaker events & gift giveaways to grow their email lists, build collaborative partnerships and generate multiple streams of income. Currently, their favorite social platform to connect is Tiktok and you can come to join our communities there - @kathalushka and @kimcarrich
Contributors

The Ultimate Facebook Ads Template and Workbook

Sherri-Lee Woycik

Chief Fun Officer

Learn how to write high converting copy and select scroll-stopping images for your Facebook ads!

Gift Value: $197

3 (1/2) Marketing Tips

James Lam

Head Honcho/Big Cheese

In this LIVE 90 minute workshop, James will cover the top 3 challenges stopping Healers, Coaches and Online Course Creators from reaching their first 100K.

Designed to be interactive, you will uncover not just what has been holding you back this entire time… more importantly you're going to take vital and powerful steps to creating something special around your own gift.

* Divide to Multiply! Why message and product simplicity is the single biggest key to getting customers to take action.

* Learn and create effective and powerful channels to build an audience - all for literally pennies with no complicated ads or *hacks*

* Discover how easy it really is to build a connection with your audience to turn them into raving fans.

Plus

* One super secret that will POWER UP every single of the above points!

I've worked with hundreds of Healers, Coaches and Course Creators, and I see these challenges all the time. Come to the LIVE small workshop where we will start taking personalized powerful steps forward together.

Get it Done

Elisha Klein

Do you have a project that you know will take your business to the next level, but you just can't find the time to finish it?

Maybe you've wanted to create a course, or take a course, or grow your email list or redo your website (AGAIN)?

This template will guide you step by step as you create a tailored plan for your project so that you can finally get it done.


Some of what's included:

Make the decisions you need to make to finally move forward.
Discover creative ways to complete your project faster and more easily.
Get super clear on WHAT you'll do, HOW you'll do it and WHEN you'll do it.
Transform your project into a concrete step-by-step action plan you can follow without getting overwhelmed.