Name

The Bold Beautiful And In Business – Women's Networking Summit
Created

1 month 3 weeks ago

Organizer Kerry George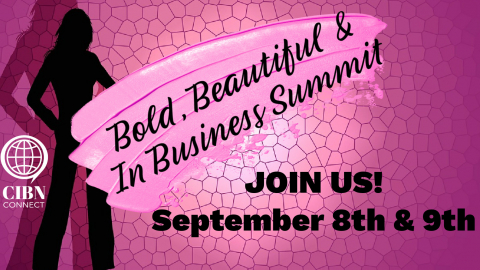 Business Areas

Business

Education

Health & Well-being

Leadership

Marketing

Topics

Business

Business Growth

CIBN

Connection

Education

Entrepreneurship

Networking
Timezone

Timezone: Mountain Time (US and Canada)
Registration ends: Thu, Sep 8, 2022 9:00 AM (2 weeks 5 days from now)
Open: Accepting Speaker Applications Until Wednesday, 31 August, 5:00 PM
Description
Bold, Beautiful & In Business (CIBN Connect) has a monthly women's networking event on the first Tuesday of the month. Information for that can be found at https://www.thecibn.com/events and it has become a very successful group of gals who love to network with each other and support their community. So ladies it is with great pleasure that we are announcing that we are now having an awesome women's summit and we are looking for guest speakers. This is going to be awesome, well attended, and a whole lot of fun. We have many fabulous experts and some big named speakers in our midst. We have many mentresses on a variety of topics. Most importantly they are a bunch of action takers who get things done.
Do you want to be named among this elite group? Do you want the business from these movers and shakers? CIBN Connect members not only do business with you, they refer you to their paying clients and they know how to collaborate better than any other networkers on the planet. This is not only an opportunity to speak, it is an opportunity to take your business to the next level.
We do have a few criteria for our speakers so please read carefully.
All Speakers must:
Be a Member with CIBN Connect before they are accepted as a speaker (Book time with Cheryl Erickson to get started for $77/month https://calendly.com/ce_executive_assistant/cibn_onboarding before picking your speaking spot with paige@cibnconnect.com)
Be a sharer of the event. No exceptions. We want a nice full crowd for everyone to benefit from. Cheryl Erickson will take your credit card and put it on file. We will be checking for 20 registrations from each speaker. If 20 are not registered by September 7th your credit card will be charged $99. All Speakers can have access to My Most Trusted and can share their links using our proprietary tool so if you do not have a large email list you can still get your 20 people. Wendy Kraft brought 72 to our last event in less than 2 hours work using My Most Trusted. It is a booking tool that is free for all CIBN Connect Members to access. If you don't want to bring people, or you have no time to bring people then you will be feeding off the efforts of the rest of us. Your feeding price is $99 USD.
Bring a VIP gift to the summit. Your gift should be valued at least $250. It needs to be something that everyone receives who takes the VIP upgrade i.e., it is not a draw or a one-off. A download is good if it is valued at $250. A course is good. A book by itself is not good. That is worth $20. Personal consultation time could work. There must also be a link that goes with your offer.
Share in the revenue of those who purchase. We will do a 40% revenue commission for anyone that you bring to the summit who purchases the VIP upgrade.
Speakers

Cyber Security - Protect your Identity, your Devices, and your Peace of Mind

Betty Ann Ellis

Regional Director

Identity theft, Hacking, Ransomware, Malware, Phishing - widespread threat facing consumers today. If you use a PC, cellphone, the internet, social media, email - you are at risk.

A Clear Message With A Purpose

Betty Withrow

Your Clear Message With A Purpose

A lot of people have great ideas for a book, but they don't know how to begin. It all starts with clarity. How do you get clear? It's by understanding exactly what you want to accomplish and how to reach the audience that will give you the results you want. I outline the method to design a message that communicates effectively with your audience and gives you the clarity to build the momentum to carry your project forward and get it done right.

Building Your Data Structure

Cheryl Erickson

Email and Computer Organization and Clean Up

Steps to create your email and document hierarchy and naming standards.

Business

IT consulting and services

+1

Advertising

Virtual Assistant

+2

From Hobby Biz to A Thriving Business: 4 Foundations For A Scalable Business

Christine Campbell Rapin

CEO & Business Success Coach

Making a successful transition from a hobby business to a thriving business without working 50+ hours a week for little to no profit requires an game plan.

Come to this presentation and you will learn:

• What is the difference in mentality between being an employee, a business owner and an entrepreneur and identify where you are on the continuum today so you can intentionally move towards holding the mindset needed to succeed in business.

• What are the 4 essential foundations for every successful business and assess where gaps might exist in your own knowledge, skillset and comfort level so you can create an action plan to bridge the gap.

Business

Personal Growth

+10

Guerrilla Publicity = Get Known Everywhere

Jill Lublin

4x Best-Selling Author, International Speaker, Master Publicity Strategist

If you want to be the #1 influencer in your industry, you've got to get bigger media visibility. Based on her international bestseller, Guerrilla Publicity, Jill shares simple strategies to help you go from unknown to newsworthy. Sharing her proven secrets to understanding what the media wants, Jill provides you with short-term, doable tactics that boost visibility for you and your brand.

Proven secrets to understand what the media outlets want
Get instant, actionable techniques that will boost your visibility.
Learn how to drive prospects to your door and profits to your pockets!

Now more than ever it's important to stretch your message so that your visibility factor stays constant. Join publicity expert Jill Lublin as she shares new powerful tips and strategies to shine your light and your message now and no matter what!

PR (Public Relations)

Public Relations

+2

Manifesting Your Destiny And Launching Yourself Into The Next Quarter

Kerry George

Mentoring, Networking, Mastermind & Business Expert

Where are you now and where do you want to take your business?

In this final session of this epic summit Kerry George the CEO of CIBN Connect will take you into your future. If you don't want anything in your life to change, then don't do a thing. However, if you want to lead with conviction and live with the manifestation of your dreams then you will want to come along as Kerry talks about how to move into Launch Mode.

Shopping Revolution!

Michelle K Phillips-Nystrom

CCO

Have you noticed that the big box stores have been cleaning up while the little guy has been struggling? We are starting a shopping revolution and it is gaining traction. Find out how you can shop local and overcome the challenges of inconvenience and price. Learn how to support other business owners in your area and find out how you can list your business in a way that you stand out as someone who deserves to be supported in your community.

I will be sharing how women can change the world by changing the way we shop.

Business

Health & Well-being

+1

Small Business

Shop Local

+1

(Pending/In works) SelfCare Tips for Entrepreneurial Women

Michelle Marcicki

🌻SelfcareCEO: I'm the Wellness Wonder Woman🔥

IT'S AN INSIDE JOB - How To Finally Turn Frustration Into Joy

Paige Stevensen

Master Intuitive

Paige Stevensen is a gifted Master Intuitive, an innate healer, inspirational speaker, workshop facilitator, best-selling author, and successful business owner of over 20 years as The Intuitive Advisor. Paige was born to the gift of seeing what most don't see and hearing what most don't hear on their own. She is a highly trained healer, certified as an Advanced Angel Empowerment Practitioner (AAEP} and Certified Angel Hands-On-Healer (AEH) through Cindy Smith's Angel Empowerment training programs.

Paige's Mission: To assist those who are struggling to transition through their own life after a death, divorce, employment change or possibly empty nest syndrome and return them to more joy and happiness with divine angelic energy. This is currently being offered through her divinely inspired 3‑day workshop: Journey to Happy.

Now is the time to finally understand your connection to the angels, let Paige assist you on your journey to more joy and happiness.

Networking Session

Renee Sullivan

I help trade businesses with attaining the ideal people needed to excel to their next level of success.