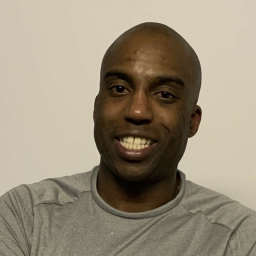 Bio
Sartre has a strong passion for health with over a decade of experience in health and wellness. Sartre has worked as a Personal Trainer, Kinesiologist, Coach, and Exercise Clinician (Diabetes Aerobic and Resistance Exercise (DARE) Study). In his undergraduate studies, Sartre worked with a research team in the area of exercise physiology where he successfully published a paper in exercise physiology (https://pubmed.ncbi.nlm.nih.gov/15497363/). Sartre has volunteered as a nationally certified Special Olympic Coach, a Neuro Rehab Assistant, and a Co-chair of the Emerging Health Leaders. Sartre spent three years in Japan, where he earned a black belt in Judo. His breadth of knowledge allows him to successfully meet the various fitness needs of clients and to help them reach their fitness goals through his own fitness business.

Get in touch with Sartre Jean-Gilles and start your fitness journey today!
Email: sjg@sjgfit.com
Phone: 403-613-3676
Book a chat today: https://calendly.com/sartrefitness/zoom-meeting-15-minutes-clone
Presentations
This is an example talk for Sartre Jean-Gilles
24-Hour Movement Guidelines
Why these Guidelines are important
The 24-Hour Movement Guidelines is an Integration of Physical Activity, Sedentary Behaviour, and Sleep.
Physical activity is a foundation for a healthy lifestyle. Yet increasingly we are seeing that people of all ages are choosing sedentary activities over active ones. Maintaining a healthy lifestyle, with the right balance of physical activity and rest, plays an important role in your overall health, well-being, and quality of life, regardless of age.
Evidence shows that sleep, sedentary behaviour and moderate-to-vigorous physical activity (MVPA) are associated with improving risk for chronic disease. More recently, light physical activity (LPA) consistent activities of daily living, has also been shown to have a positive effect on health.
Because an increase in the amount of time spent in any one of these movement-related behaviours that comprise a 24-hour day will change the amount of time spent in another, emerging research has considered how they may interact to influence health. These time-use factors have highlighted the importance of all movement behaviours across the whole day (24-hour period).
We have developed 24-Hour Movement Guidelines, providing guidance on the optimal amount of physical activity, sedentary behaviour, and sleep – and the best combination of these behaviours – for individuals of all ages.