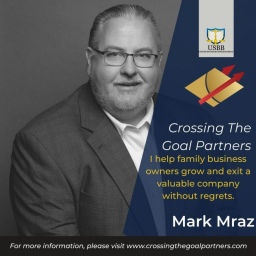 Bio
Mark Mraz is The Most Trusted Growth And Value Advisor For Las Vegas Business Owners. His specialty is working with self-employed business owners in the Las Vegas area considering a future exit event. Mr. Mraz is also author of "Crossing the $5M Goal: 10 Blind Spots Every Business Owner Should Know to Maximize the Value of Their Business"
A free copy is available HERE.
Self-employed business owners commonly find themselves mired in operations and the day-to-day running of their business and often fail to give themselves the time to strategize and envision a long-term plan for maximizing their business' growth and value for a future ownership transition.
Mark brings a lifetime of diverse work experience across all sizes of business, as well as sharply-honed skills in process and systems documentation, to help entrepreneurs take their businesses to an exit and set themselves up for a premium offer and happy exit into a new chapter of life. Having been on both sides of the coin, from corporate employee to self-employed business owner himself, Mark brings a breadth of knowledge and experience to his work.
Mr. Mraz is in search of speaking events specific to exit planning, ideally targeting baby boomer business owners. My focus is on the eight key drivers of company value to help owners create a more valuable business today, which means owners will get a premium offer for their business tomorrow.