Name

Launch Your Biz Giveaway

Created

2 months 1 week ago

Organizer

Maribel Jimenez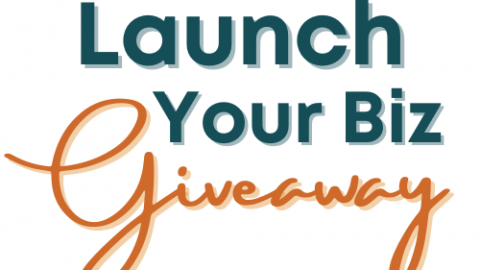 Timezone

Timezone: Pacific Time (US and Canada)
Registration ends: Mon, Sep 26, 2022 11:55 PM (3 months 4 weeks from now)
Open: Accepting Contribution Applications Until Monday, 18 July, 8:00 PM
Description
You are invited to join our 5th annual LAUNCH Your Biz GIVEAWAY!
As an Expert Contributor, you'll be featured among a hand-picked group of conscious transformational leaders who are masters in their field - like you. Together, we will reach over 250K entrepreneurs and share our free resources.
You landed here through a personal invitation from myself or a partner referral network because we believe you have something valuable to contribute. I LOVE hosting and participating in Online Giveaways because they are incredible win-win-win events for everyone participating.
As a contributor you will quickly grow your email list with "warm" leads from our shared communities AND help fellow coaches and transformational leaders/entrepreneurs with your free resources that support business growth overall. Contributors from our past events have gotten as much as 900 new email connections/leads. Participants win because they get access to dozens of free resources to create a quantum leap and LAUNCH their business! Everyone wins! What could be better?
In the Launch Your Biz Giveaway, I'm on a mission to showcase resources that support "inner" AND "outer" work. I know success starts from the inside, out.
I invite you to feature your BEST trainings, templates, toolkits, guides, and more that showcase your work and what you are known for that help entrepreneurs create a BOOST in their business. As you know, there are SO many elements involved in growing your business so it makes for a great online event to compile this as a resource for entrepreneurs at any stage of business. Together we will show participants how personal development and business development go hand in hand in creating a higher level of success.
This giveaway event will be divided into categories of:
* Launch YOURSELF: What will it take for you to show up as your best self? (personal discovery of strengths, human design, enneagram, archetypes, hand analysis, assessments, life purpose work, healing old wounds/clearing trauma, confidence, belief work, self-love, self appreciation, brain entrainment, NLP, etc);
* Launch Your VISIBILITY: How will you let your people know that you exist? (social media - especially interested in experts on Instagram, Pinterest/Pinterest Ads, Facebook/FB Ads, Clubhouse, online events, SEO, book publishing, podcasting, affiliate partnership, training, Pinterest ads, etc.);
* Launch Your SALES: (sales conversations, event-based marketing (launches), webinars, copywriting, sales funnels, launching, etc);
* Launch Your SYSTEMS to keep growing: (client service, referral systems, finance management, time management, tools to run your biz, legal/admin, software, systems to scale your biz, follow-up, nurture/repeat customer systems, SOP's, team management, etc).
I'm more excited than ever to go deeper with the value overall and I'm ONLY accepting experts I have experience with and/or checked on in each area that I know are doing amazing work - THAT'S YOU!
I'd love to feature YOU in our 5th annual Launch Your Biz Giveaway.
ARE YOU IN?
My team and I will make it super easy for you to participate - we create everything and you share it. Once you reserve your spot, you'll receive an email with your next steps to submit your free gift. Plus, we've outlined our requirements below. If you have any questions, please email support@yourdreamlaunch.com with subject line "Giveaway" to contact my team.
Warmly,
Giveaway Event Details
How It Works
Visitors are directed via email and social media posts to a main Giveaway landing page where they can opt in and receive access to the Giveaway expert contributor giftpage that lists all contributor gifts and raffle items. Visitors can pick and choose which gifts and categories interest them the most and "opt-in" to your gift by clicking on the "Get Access" button. Then, they are directed to the expert contributor's opt in page. Visitors then subscribe to your free offer and get added directly to your email list and funnel!
Dates
The Launch Your Biz Giveaway begins on SEPTEMBER 12th, 2022 and runs through SEPTEMBER 26th, 2022. Emails and social media promotion must go out in this timeframe.
Sales ARE ALLOWED During Giveaway Event
I approved and hand-selected each expert contributor so I know that you are already great at what you do. I would expect that new participants would want to do business if they need your services, so I happily support it.
I personally love to invite people to make a decision on investing with me and I love to invest in myself when it feels like the right time. During the time of the giveaway, contributors CAN market/sell to Giveaway leads but please NO immediate offers on thank you pages .
We encourage you to share value and how to take it further with any offers as normal in your email sequences and sales process. We believe that it is a great service to share how to take your work further for those who are ready.
PLUS, this gives us both a chance to make extra revenue as affiliates of each other. Your custom affiliate link used in giveaway will earn you commission on any sales during or after the giveaway on my products and programs. Please note that we will be using the custom affiliate link you give us to register your gift and track any sales. It creates a win-win-win! Optins AND Commission opportunities for everyone.
Participation Requirements
List Size
Since we personally invited each contributor because YOU GIVE GREAT VALUE, we do not have a specific list size criteria because we've had a great experience with BOTH large and small but engaged lists. Instead, we ask for your commitment to giving 100% participation in sharing with your community. It's our goal for each contributor to bring in at least 150 optins.
Contributor Fee
The fee to participate as an expert contributor is $197. There are 10 spots to upgrade to a premium spot.
Promotion
Contributors are required to send 3 solo emails to their list and post to social media at least 3 times between September 12th and 26th. (Exceptions will be made to larger, engaged lists that can commit to at least 150 optins with less promotions.)
Expert Contributor Feature Options
EXPERT CONTRIBUTOR
Participate as an expert contributor to feature. our free gift and/or raffle to audience of over 250K.

Receive all promotional materials to make it easy to share with your audience.

Leaderboard opportunity to win prizes for optins.
$197
EXPERT CONTRIBUTOR PREMIUM SPOT
Everything (above) PLUS the following:

Highlight spot in a special "Premium" section at the top of page above all gifts. (based on order of registration)

Highlighted in solo email during the live event.

Potential for more than double the average optin rate of all contributors. (500-1000 optins)

10 total spots

(5 spots left)
$297
Your Responsibilities
Create an Irresistible Giveaway Offer!
We want all our contributors to ideally receive hundreds or thousands of new leads through this event. To do so, we encourage you to create an irresistible, must-have giveaway and/or raffle item. The more juicy the gifts we offer are, the more exposure the event will receive and the greater the benefit to everyone.
You can offer a free gift, a raffle item or both. We encourage you to do both to maximize your new leads. The higher the value of the raffle item, the more likely people will want it. For raffles, we simply need a short description, the value and notification of winners after the event is over. If you offer a raffle, the participant is "entered to win" by opting in for your gift. Then, you select the winner and notify them after giveaway closes. You do not have to create something new for this Giveaway. However, it's ideal if it is something extra special and has a higher value than what you normally offer on your main website.
Submit Your Contributor Form and Provide Required Materials
Once you submit your contributor fee, you will receive an email that details your next steps and includes a link to the contributor form. This form collects everything we need to include your free gift/raffle item on the main Giveaway Page. Contributor Forms are due by Aug 15th.
Create Your Opt In Page and Thank You Page
To capture your new leads, create an opt-in page that describes the benefits of your free gift/raffle prize and a way for visitors to subscribe. In addition, you'll need to create a thank you page which provides a download link or instructions on how they can access your free gift. You will be provided with graphics and boilerplate language to include on your opt in page indicating you are participating in the Giveaway. Your opt-in page and thank you page must be submitted to us for review by Aug 19th. If you need help creating a new free gift for this event, we offer an event special for partners. (see registration form)
Promote the Giveaway
Between September 12th – 26th, send your 3 solo emails and promote to your social media channels. We will provide you with sample emails, graphics and social media posts that you can use as is or edit to your voice and what your community resonates with. It is our goal to make this a win-win-win for everyone involved so a joint effort to invite participants is key. We encourage contributors to support the event with at least 150 optins to help meet the overall goal of the Giveaway to reach at least 5,000+ optins. Through joint promotion, we all win!
Important Dates
Secure Your Giveaway Spot: ASAP (open until full)
Complete Your Contributor Form: Aug 15th
Submit Opt In Form and Thank You Page for Review: Aug 25th
Promotional Materials and Graphics Provided: Aug 29th
Giveaway Goes Live: Monday, September 12th, 2022
Promotion To Your List and Social Media: September 12th – 26th (All emails and posts must be completed during this time)
If offering a raffle, select and notify your winners and the Launch Your Biz Giveaway Team: September 28th
Winners Announced: September 30th
Your Host, Maribel Jimenez
About Your Host, Maribel Jimenez
Maribel Jimenez is an International Speaker, Bestselling Author, and Marketing Launch Strategist. She is founder of Your Dream Launch & Host of the Superwoman Entrepreneur podcast where she teaches Entrepreneurs, Coaches, and Consultants how to design and host their own successful online events and create a thriving business and life!
For the past 20 years, Maribel has excelled in Business Development and Marketing, including writing successful marketing campaigns, curriculum and training programs for multimillion dollar organizations. She's won numerous awards including the prestigious President's Award through Toyota.
She left her 6-figure marketing job to pursue her dream of starting her own business online so she could be home with her kids. After immersing herself in figuring out the fastest path to replace her 6-figure income doing what she loved, she turned around and began teaching others how they can too!
She's a happily married mom of 4 and has created her dream business online to support her dream life being able to retire her husband so he could pursue his dream and travel with her family.